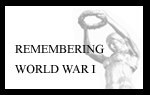 REMEMBERING WORLD WAR I
Historic commemoration
Sunday, August 3, 2014 – 2:00 p.m.
$10 at door; students FREE. Wheelchair-accessible, air-conditioned
REMEMBERING WORLD WAR I (100 years): The commemoration features World War I–era poetry, classical and popular music and artwork along with excerpts from journals and memoirs by soldiers and those on the home front. Poetry includes that of Wilfred Owen, Siegfried Sassoon, Rupert Brooke and Edith Wharton.
Besides projections during presentations, art on exhibit features posters, magazine covers, ads, and photos of the war era. "We wanted to do something with a spotlight on the arts for this commemoration," said North Hall trustee Ruth Pardoe. "The first World War yielded a wide variety of artistic expression that will be reflected in this program."
PERFORMERS:
Readers include Liz Bedell of Northampton, Ruth Pardoe of Huntington and Mitch Giannunzio, Margery Shaw and Kenneth Tigar of New York City and Huntington.
Musicians include Violinist Jerry Gold with pianist and vocalist Patty Carpenter, both of Guilford, Vt., will perform popular songs of the era, inviting sing-along. Pianist Marsha Messier of Chester will play Maurice Ravel's Le tombeau de Couperin, a dual tribute to 18th-Century composer François Couperin and personal friends who gave their lives in defense of France.
BIOS
Mitch Giannunzio's play "Lizzie Borden at Eight O'Clock after opening on the North Hall stage two years ago moved to off-off Broadway for it's New York premiere. His play "Last Tag" was made into a Sweepsweeks CBS-TV Movie called "Falling For You" starring Jenny Garth. His play "A Smaller Place" was made into a feature film, "The Hiding Place," starring Kim Hunter and Timothy Bottoms. His most recent acting performances have been in the movies "Perfect Stranger" and "Burn After Reading," and in the Tennessee Williams play "I Can't Imagine Tomorrow."
Marsha Messier Since 2008, Marsha and her husband have lived year round in Chester, MA, where she is Organist and Choir Director at Norwich Hill Congregational Church. For many years she was the Organist and Choir Director at the First Church in Ludlow. When her husband retired, they enjoyed travel in the US and she spent 10 winters as accompanist and choral director in Tucson, Arizona.
Margery Shaw graduated from Connecticut College in 1962 and set off for New York City in order to play all the great roles. More than half a century and at least 200 roles later, from The Circle in the Square in NYC to The Ahmanson in LA, and at dozens of regional theaters in between, including several here in Western Mass and for 17 seasons at home base with Paul and Ellen Barry's New Jersey Shakespeare Festival, that's pretty much what she did. At least some of them anyway. ( Saint Joan, Juliet, Ophelia, Desdemona, Bianca, Isabella, Regan,Portia, Beatrice, Gertrude, Emilia, Helena, Yelena, Corie Bratter, Thea Elvsted, Polly Garter, Lydia Languish,Linda Loman, Ethel Thayer, MissAlma, Miss Prism, Miss Daisy, Miss Helen–Athol Fugard's– Blanche, Amanda, Cassandra, Miranda and Tamora, the Queen of the Goths to name a few.) But somehow Big Mama has eluded her until now. So big thanks to Mitch and Ken for the chance to finally say her words in this season's CAT ON A HOT TIN ROOF.
Kenneth Tigar, who currently appears in the TV shows "House of Cards," "The Good Wife," and "Alpha House," is the recipient of a Los Angeles Drama Critics' Circle Award and South Florida's Carbonell Award for his stage work. His credits include "The Avengers" and the "Lethal Weapon" movies, "Barney Miller," "Boardwalk Empire," "Elementary," and "Law and Order." On stage he has played Willy Loman in "Death of a Salesman," and he starred in "The Sunshine Boys," "All My Sons," and "The Price." He directed the national tour of "The Gin Game" with Academy Award winner Kim Hunter and recently directed the New York premiere of Mitch Giannunzio's "Lizzie Borden at Eight O'Clock." He returns to Huntington having just portrayed Sigmund Freud in productions of "Freud's Last Session" in Hartford and at The Cape Playhouse.
Art on exhibit in the Gallery features posters, magazine covers, ads, and photos. There will be an intermission as well as a reception with refreshments in the exhibition gallery.
"The first World War is an integral part of the American experience," said Patrick Berry of the Westfield News in Western Mass. "We're proud to be a supporter of this important historic remembrance."
All welcome.
contact: 413- 667- 5543 / www.northhallhuntington.org
back to home/events