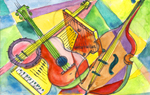 FOLK, BLUEGRASS & COUNTRY
Berkshire Mountain Boys and Wintergreen Trio
Sunday JULY 27, 2014 – 2:00 p.m
$10 at door; students FREE. Wheelchair-accessible, air-conditioned
Berkshire Mt. Boys and the Wintergreen trio will be bringing you bluegrass, traditional and contemporary folk and country music.(www.wintergreentrio.com).Meet the artists reception at intermission.
North Hall artist gallery:is open before and after the event.
Performers BIOS:
BERKSHIRE MOUNTAIN BOYS
Phil Pothier (Autoharp and Vocal) and Charlie Mihlek (Guitar and Vocal) have been sharing the old songs for over fifty years, since childhood together. Newcomer Dan Damkauskas (Banjo) has known Phil and Charlie for over forty years. All have performed with various groups over the years in New England and across the country with a repertoire which spans the genuses of Bluegrass, Gospel, Folk Ballads and Country music, to mention a few.
With the desire to keep the old songs alive they have joined together to bring this old time music to you for the fun and for your enjoyment.
WINTERGREEN TRIO
Alice and Larry Spatz perform throughout the Northeast, appearing on television, radio, at folk festivals, in concert and at clubs, schools and colleges. Active folk musicians since the 1960s, they have performed internationally and recorded several albums and tapes as soloists and with other performers. They may play as many as eight instruments during a performance, including double bass, autoharp, psaltery, guitar, mountain dulcimer, recorder, banjo, and percussion. Their appeal is wide, from audiences of pre-schoolers to senior citizens. As members of the folk trio October Mountain, along with Anson Olds, they appeared monthly on a live radio show broadcast on WAMC, "The Northeast Folk Festival." Alice has recorded as a vocalist and bassist with Cindy Mangsen and Bernice Lewis.
Jared Polens plays hammer dulcimer solo and with others throughout the Northeast. He was a member of the contradance band, Southwind, and also sings with the a capella vocal quartet Northern Spy which has opened for Maura O'Connell and Tom Paxton. Jared has recorded as a vocalist with Alouette Iselin of Nelson, NH and with Ed Kohn of Windsor, MA. For several years he organized weekly music nights on the summit of Mount Greylock and he has frequently performed at the Acoustic Brew in Williamstown, MA.
Info: 413-667-5543 / www.northhallhuntington.org
Illustration: "Intruments" © Peri Sossaman