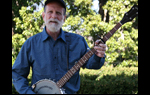 CELEBRATE PETE SEEGER
Theater / folk music
Saturday. JULY 9, 2016 – 2:00 p.m. Sunday JULY 10, 2016 – 2:00 p.m
$15 at door; students free. Wheelchair-access, air-conditioned.
Celebrate Pete Seeger. Playwright, musician and actor Randy Noojin portrays the legendary Pete Seeger as he plays a benefit for U.S.-Cuban normalization in 1982.  Come sing along with Pete as he uses some of his greatest songs to tell of his battles with the HUAC witch-hunt and the Blacklist during the Cold War. Culled from Seeger's own word and testimony.
Meet-the-artists Reception. North Hall artist gallery is exhibiting paintings by Ruth LaPrise and Susan Racine.
BIO
Randy Noojin's solo play with music, Hard Travelin' With Woody had its world premiere in The New York International Fringe Festival and has since toured the U.S and Canada including performances here on the North Hall stage in 2014.
Noojin holds an MFA in Performance from Arizona State University and an MFA in Playwriting from The University of Iowa's Playwrights Workshop, where he wrote The Knife Trick, Just Say Something and The Complaint, which won the Maibaum Playwriting Award for plays dealing with issues of social justice, produced by Bloomington Playwrights Project and Cockeyed Optimists at The 45th Street Theatre. 
In New York, Randy has acted in hundreds of plays at Circle Repertory Company, La Mama E.T.C., Circle in the Square Downtown, Circle Rep Lab, The Kraine Theatre, The 45th Street Theatre, The Flamboyan, Hudson Theatre Works, Alice's 4th Floor, West Bank Theatre Downstairs and The Drilling Company.
He played Hank Williams in three productions of Hank Williams: Lost Highway, at Southern Appalachian Repertory Theatre, Mill Mountain Playhouse in VA, and at New Stage in MS.
On television, Noojin has been featured on Boardwalk Empire and Royal Pains.  Independent films include The Bench, Die Barkley, and Evil Things.
Noojin wrote and directed a four minute 16 MM film, The Last Bus, film score by Marshall Harvey.
All welcome.
contact: 413- 667- 5543 / www.northhallhuntington.org