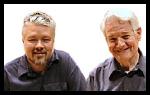 JAZZ DUO JERRY NOBLE & BOB SPARKMAN
Jazz and Swing
Sunday, SEPT. 10, 2017- 2:00 p.m
$10 at door, students FREE. Wheelchair-accessible, air-conditioned
Jerry Noble on piano and Bob Sparkman on clarinet return in concert at the North Hall Arts Festival playing cool blues, jazz and swing.(www.bobandjerry.com)
Fats Waller has always been a favorite composer of theirs, and they always try to return to his music often during a gig, revisiting classics like "Ain't Misbehavin," "Keepin' Out of Mischief Now," "Jitterbug Waltz," "Honeysuckle Rose," as well as a sampling of masterpieces from the American songbook like Hoagy Carmichael's Stardust, Memphis in June, and New Orleans, with some Dixieland stompers like Fidgety Feet, That's A-Plenty, and Limehouse Blues. We are in our 21st year of playing together (documented by 10 CDs).. Visit Bob and Jerry online at www.bobandjerry.com
Meet the artists/ performers reception during intermission.
North Hall artist gallery is exhibiting paintings by Natalie Birrell.
.
BIOS
Inspired by jazz artists including Louis Armstrong, Sidney Bechet, and the Condon Mob, Bob Sparkman once jammed around Westchester County, N.Y. with contemporaries Dick Wellstood and Ed Hubble. He gigged professionally in New York City and worked as player and assistant manager at the last Eddie Condon jazz club. A New York Times reviewer dubbed his sound "wry and rough-toned . . . hover(ing) midway between Pee Wee Russell's tortured notes and the straight positive phrases of Rod Cless" with a style and manner distinctly his own.
Sparkman has also played with The Jazzmen, The Bourbon Street Six, and the Gotham Jazz Band. He did a gig with Fats Waller's trumpeter Herman Autry at Joe's Pier 52 before retiring to the Pioneer Valley in 1994. He performs with the Espresso Jazz Trio, the King Phillip Dixieland Band, and with Jerry Noble.
Clifton "Jerry" Noble, Jr. is a performer and composer whose works have been performed by the Boston Chamber Music Society, the Holyoke Civic Symphony Orchestra, the Western Massachusetts Young People's Symphony, and the Springfield (Mass.) Symphony Orchestra.
His choral works have been performed by ensembles in the Five Colleges community, the Assabet Valley Mastersingers, and school and collegiate ensembles throughout the country. He and violinist Joel Pitchon recently released a CD of his violin sonatas on Gasparo Records.
Noble serves as staff accompanist for the Smith College Music Department and pianist for the Glee Club and Chamber Singers, which have performed his compositions and arrangements throughout the U.S. and Europe. He also writes classical music reviews and features for the Springfield Republican.
All welcome.
contact: 413- 667- 5543 / www.northhallhuntington.org