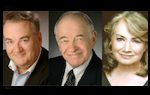 UNDER MILK WOOD
Play by Dylan Thomas
Sunday. June 25, 2017 – 2:00 p.m.
FREE. Wheelchair-accessible, air-conditioned
A staged reading of Dylan Thomas' play UNDER MILK WOOD. Directed by Mitch Giannunzio and performed by Ellen Barry, Margery Shaw, Kenneth Tigar, Sandra Blaney, Justin Fuller & more.

North Hall artist gallery -Meet the artists reception with refreshments follows performance. Gallery showing art work by JANET SADLER – open during events
BIOS
Kenneth Tigar's credits span the distance from Barney Miller and the Lethal Weapon movies to The Good Wife and The Avengers. He can be seen on both the Amazon series Alpha House with John Goodman and the Netflix series House of Cards with Kevin Spacey and will be found on the up-coming AMC series Feed the Beast with David Schwimmer. On stage Kenneth appeared last year in Larry David's smash Broadway hit Fish in the Dark; and he has acted extensively in New York and regional theatres, performing Salieri in Amadeus, Willy Loman in Death of a Salesman, and Joe Keller in All My Sons, amongst others. He has performed Old Wicked Songs in Vienna, Santa Barbara, Sarasota and Lake George; won a Los Angeles Drama Critics' Circle Award, two Dramalogue Awards, and South Florida's Carbonell Award. He appeared across the country in his one-man show I Must Be Mr. Boswell about the biographer of Dr. Johnson. He directed the national tour of The Gin Game with Academy Award winner Kim Hunter and is also an accomplished opera director. His translations of Wedekind and Büchner have been published by Broadway Play Publishing.
Margery Shaw graduated from Connecticut College in 1962 and set off for New York City in order to play all the great roles. More than half a century and at least 200 roles later, from The Circle in the Square in NYC to The Ahmanson in LA, and at dozens of regional theaters in between, including several here in Western Mass and for 17 seasons at home base with Paul and Ellen Barry's New Jersey Shakespeare Festival, that's pretty much what she did. At least some of them anyway. ( Saint Joan, Juliet, Ophelia, Desdemona, Bianca, Isabella, Regan,Portia, Beatrice, Gertrude, Emilia, Helena, Yelena, Corie Bratter, Thea Elvsted, Polly Garter, Lydia Languish,Linda Loman, Ethel Thayer, MissAlma, Miss Prism, Miss Daisy, Miss Helen–Athol Fugard's– Blanche, Amanda, Cassandra, Miranda and Tamora, the Queen of the Goths to name a few.) But somehow Big Mama has eluded her until now. So big thanks to Mitch and Ken for the chance to finally say her words two seasons ago in CAT ON A HOT TIN ROOF.
Mitch Giannunzio's play "Lizzie Borden at Eight O'Clock" after opening on the North Hall stage moved to off-off Broadway for its New York premiere. His play "Last Tag" was made into a Sweepsweeks CBS-TV Movie called "Falling For You" starring Jenny Garth. His play "A Smaller Place" was made into a feature film, "The Hiding Place," starring Kim Hunter and Timothy Bottoms. His most recent acting performances have been in the movies "Perfect Stranger" and "Burn After Reading," and in the Tennessee Williams play "I Can't Imagine Tomorrow."
Ellen Barry has performed over a hundred leading & supporting roles in NYC and theaters across the country including Boarshead, McCarter Theatre, NJ Shakespeare Festival, Syracuse Stage, WorkShop Theatre: Tennessee Williams (Blanche, Stella, Maggie, Hannah), Albee (Martha), Shakespeare (Constance, Hermione, more),Vivian Bearing in "Wit", one-woman show "Lizzie Borden at Eight O'Clock." She received an Off-Off-Broadway Award for excellence in her role as Ella in Ibsen's "John Gabriel Borkman" with the Century Center Theatre.
All welcome.
contact: 413- 667- 5543 / www.northhallhuntington.org