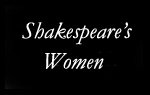 Shakespeare's Women
Theatre/ Spoken Word with Ellen Barry
Sunday JUNE 24, 2018 – 2:00 p.m
$10 at the door; students free; Wheelchair-accessible, air-conditioned
In Shakespeare's plays, women are far outnumbered by men, yet they are among his most memorable characters. Veteran actress Ellen Barry takes her audience on a memorable journey as she performs and discusses a wide range of the Bard's female characters, from ingénues to leading ladies to character women and finally crones. North Hall artist gallery:is exhibiting the works of local artists
BIOS
Ellen Barry has performed over a hundred leading & supporting roles in NYC and theaters across the country including Boarshead, McCarter Theatre, NJ Shakespeare Festival, Syracuse Stage, WorkShop Theatre: Tennessee Williams (Blanche, Stella, Maggie, Hannah), Albee (Martha), Shakespeare (Constance, Hermione, more),Vivian Bearing in "Wit", one-woman show "Lizzie Borden at Eight O'Clock." She received an Off-Off-Broadway Award for excellence in her role as Ella in Ibsen's "John Gabriel Borkman" with the Century Center Theatre.
Info: 413-667-5543 / www.northhallhuntington.org