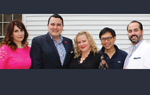 OPERA ARIA & SONG SHOWCASE
Saturday MAY 26 2018-7:00 p.m.
Sunday MAY 27, 2018 – 2:00 p.m
$15 at door, students FREE. Wheelchair-accessible, air-conditioned
The New York ensemble presents art songs and arias from various operas. The ensemble features soprano Angela Leson, baritone Christopher DeVage, soprano Tammy Tyburczy and tenor Antonio Abate with accompanist Jerome Tan.
Performers reception at intermission.
North Hall artist gallery – Art Work by local artists – open during events
BIOS:
Soprano Angela Leson, earned degrees in vocal performance from the University of Saskatchewan and the University of Kentucky. She has performed in Handel's Messiah, Fauré's Requiem, Haydn's Lord Nelson Mass with the Artemis Chamber ensemble, Saint-Saens Christmas Oratorio, and Mahler's Symphony No. 2, and with the New Amsterdam Symphony Orchestra in the Brahms Requiem at Symphony Space.
Baritone Christopher DeVage, a graduate of Juilliard, holds a master's degree in opera performance. He made his New York Philharmonic début in Bernstein's West Side Story Suites at Carnegie Hall. A winner in the Oratorio Society of New York solo competition and the Metropolitan Opera National Council auditions, he has appeared as soloist at Carnegie Hall, Avery Fisher Hall, and Alice Tully Hall. This season he will be heard in Schönberg's Friede auf Erden and Beethoven's Ninth Symphony with the NY Choral Artists at Carnegie Hall (Vienna Philharmonic).
Soprano Tammy Tyburczy, a graduate of Juilliard and the Curtis Institute of Music, has sung the role of Musetta in Puccini's La Boheme on tour with the San Francisco Opera and Susanna at the Aspen Music Festival. She also sang Pamina in Mozart's Magic Flute with Pittsburgh Opera. For four years she sang the soprano solo in The Lord of the Rings Symphony with the Utah, Baltimore, New Jersey, Pittsburgh, and Leipzig Gewandhaus Symphony orchestras. In 2006 she covered the international artist Ruth Ann Swenson as Marguerite in Faust. Ms. Tyburczy recently recorded the soprano solo in The Evidence of Things Not Seen with Albany Records. She recently recorded a demo for the new Hyundai Sonata commercial.
Tenor Antonio Abate, a graduate of Juilliard, has performed major roles including the title role in Faust, the title role in Offenbach's Orpheus in the Underworld, Sam in Street Scene, Ottavio in Don Giovanni, Basilio and Curzio in The Marriage of Figaro, Tamino and Monastatos in The Magic Flute, and Andrew Johnson in The Mother of Us All. Mr. Abate completed a year at the A.J. Fletcher Opera Institute in North Carolina as one of only six fellows. He has attended the prestigious Marlboro Music Festival, the Ravinia Steans Institute, Bowdoin Music Festival, Opera North, Chautauqua Music School, BASOTI Music Festival in San Francisco, and Aspen Music Festival.
Pianist Jerome Tan, a native of Singapore, came to the U.S. on a music scholarship to the Peabody Conservatory of Music at Johns Hopkins University, where he earned masters degrees in piano performance and ensemble arts. He has served as a staff pianist at the Steans Institute of the Ravinia Festival. Since receiving the Marilyn Horne Foundation Award for Vocal Collaboration from the Music Academy of the West, he has become a regular collaborator with many singers. Notable engagements include both The Song Continues and On Wings of Song programs in New York, and a birthday gala in honor of Miss Horne at Carnegie Hall as well accompanist for singers at the L'Academie musicale de Villecroze in southern France.
All welcome.
contact: 413- 667- 5543 / www.northhallhuntington.org