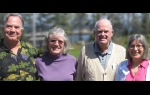 THE JADE QUARTET and Friends
Classical music concert
Sunday, SEPTEMBER 30 – 4:00 p.m.
$15 at the door; students free. wheelchair/elevator accessible
The program includes the Dvorak Dumky Piano Trio with Harry Seelig, piano, Dennis Townsend, violin and Rae Nickel, cello and the Schubert Trout Quintet with Harry Seelig, piano, Janet Van Blerkom, violin, William MacKnight, viola, Rae Nickel, cello and Lynn Lovell, bass.
The Jade quartet started playing and rehearsing together in 2008. Since that time they have attended many chamber music workshops together in the both the US and Europe. Their repertoire spans the quartet literature, from Beethoven and Mozart to Sibelius, Elgar and Bartok. They have been coached by many well-know quartets including the Borromeo and the Portland Quartets.
There is a meet the artists reception at intermission. The North Hall artist gallery featuring the art work of Jean Gaitenby, Alma LaFrance and Wynne Lewellyn is open before, during and after event.
All welcome.
contact: 413- 667- 5543 / www.northhallhuntington.org
back to home/events