COMMUNITY USE
The North Hall has a long history of being used by its residents and local organizations for all sorts of events and gatherings. This community building is open from May through the end of October. The building is wheelchair/elevator accessible.
The first floor schoolroom with adjoining kitchen can accommodate a gathering of up to 30-40 people. The kitchen includes: refrigerator, cooktop stove (new) and microwave oven but does not include a conventional oven or dishwasher.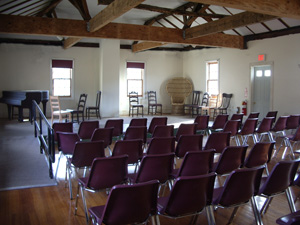 North Hall second floor performance and event room.

The second floor room can accommodate a larger gathering. It is often used as a performance space because of the excellent acoustics of the room. There is a slight rise for a stage area.
If you or your organization wish to use the North Hall for a function download the North Hall Use Application form : NorthHall Application.pdf.
Please call the Town Hall to check for date availability. 413-667-3500