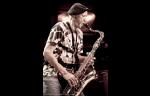 CHARLES NEVILLE & The New England Nevilles
Jazz, Blues, Funk, Hip Hop
Sunday, JULY 2, 2017 – 2 p.m.
$10 at the door; students & kids free; wheelchair accessible, air-conditioned
Legendary jazz saxophonist Charles Neville, from New Orleans to the Grammys in concert with his sons. North Hall artist gallery:is exhibiting the works of Janet Longe Sadler.
Saxophonist Charles Neville is best known for his performance of rhythm & blues, funk, jazz, be-bop, popular and American Indian music. He currently describes his performance art as "the great American classical music known as jazz." He includes among his artistic influences Louis Jordan, Charlie Parker, John Coltrane, Sonny Rollins, Professor Longhair, and Louis Jordan.
Neville formed the band The Turquoise with brother Art and some friends in the early 1950s. After his Navy duty he went out on the road, gigging with artists from Jimmy Reed to B.B. King and Bobby "Blue" Bland. As a member of the house band at the renowned Dew Drop Inn, Neville played with some of the biggest names in his hometown, including Allen Toussaint, James Booker, Huey "Piano" Smith, and Ernie K. Doe.
Living in New York exposed him to major saxophone artists from Sonny Rollins to Charlie Parker and John Coltrane. He gigged in the Big Apple with George Coleman and Billy Higgins. Neville returned to New Orleans to play with his brothers in 1977; the Neville Brothers became the acclaimed First Family of Funk, for years playing music seldom known outside of the Crescent City. Their album Treacherous (1986) ranges from Mardi Gras Indian songs to Aaron Neville's "Tell It Like It Is" and is noted for its gospel finale.
Besides his musical legacy, Neville is known for his pursuit of Eastern spiritual understanding. He won a Grammy in 1989 for his "haunting rendition" of Healing Chant on the Yellow Moon CD. Known for "ethereal performances" at the New Orleans Jazz & Heritage Festival, in 1991 Neville's group Diversity produced a CD demonstrating a great range of musical expression. Diversity is still part of Neville's repertoire, along with the huge body of recordings and live concerts the Neville Brothers have performed.
In 2001, Neville released The Painter, in which he is said to "paint" with music on classics and original tunes. In that year Neville also released Safe In Buddha's Palm, which pays homage to eastern philosophy and the healing power of the feminine.
All welcome.
Info: 413-667-5543 / www.northhallhuntington.org