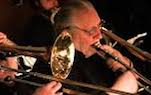 Dave Sporney's Swingtet
Big band, jazz, swing
Sunday, AUGUST 5, 2018 – 2:00 p.m
$10 at door, students free. wheelchair/elev. accessible
Dave Sporny on trombone and members of the Amherst Jazz Orchestra bring Big Band swing sounds, smooth jazz and favorite ballads to the North Hall stage.
Performers reception at intermission.
North Hall artist gallery – Art Work by local artists – open during events
DAVID SPORNY is a performer, educator, conductor, clinician and arranger. He is recently retired from the University of Massachusetts at Amherst where he was Professor of Trombone, conducted the Chapel Jazz Ensemble, Trombone Choir and performed with the Faculty Brass Quintet. Since coming to the University in 1982, he has been a frequent recitalist, clinician and freelance trombonist in New England. Being equally comfortable in both classical and jazz traditions, Most recently, as member of the Silk Road Ensemble, he performs with Yo Yo Ma. He has also performed with The Tonight Show Orchestra, Tommy and Jimmy Dorsey Orchestras, Les Elgart, Joe Williams, Frank Sinatra Jr., Nancy Wilson, Maureen McGovern, Aretha Franklin, Andy Williams, Dave Brubeck, Marian McPartland, Max Roach, Billy Taylor, Slide Hampton, J.J. Johnson, to name a few. Dave Sporny is the founder and musical director of the Amherst Jazz Orchestra. In 2004 the International Association for Jazz Education presented him with a Lifetime Achievement Award.
Mr. Sporny has appeared in concert halls throughout the world including Carnegie Hall, Lincoln Center, Kennedy Center, Tanglewood and Ravinia. Tours with various ensembles have taken him to South America, Europe, Scandinavia, Eastern Europe, Japan and Russia. He has performed with the Chicago Little Symphony, the Northwood Orchestra, Opera North, the Springfield and Hartford Orchestras, Ancora Chamber Ensemble, and the Corporate Brass. In 1997 he was chosen as principal trombone for the Festival Orchestra of Santa Domingo in the Dominican Republic.
David Sporny has recorded 12 albums and 17 CD's for RCA, Brownstone, Seabreeze, Jazz Masters and Original Cast Recordings. He is a voting member of the National Academy of Recording Arts and Sciences.
All welcome.
contact: 413- 667- 5543 / www.northhallhuntington.org
back to home/events