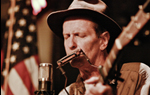 HARD TRAVELIN' with WOODY
Written and Performed by Randy Noojin
Sunday JULY 22, 2018-2:00 PM;
$15 at door; students FREE. Wheelchair-accessible, air-conditioned
Critically acclaimed artist Randy Noojin's portrayal of American singer-songwriter Woody Guthrie is based on Guthrie's writing and recordings. Noojin performs the many favorites in this multimedia presentation. (www.hardtravelinshow.com)
"Writer and star Randy Noojin delivers… straight-forward, no-nonsense portrayal of singer, songwriter and activist Woody Guthrie in Hard Travelin' With Woody."(Huffington Post)
"His one-man show is peppered with quotes from Guthrie's various writings, musings, interviews and recordings. He works in stories Guthrie told, and manages to cram much of the singer's life story into his one-hour set."(Mountain XPress)
Meet the artist reception after the performance.
North Hall artist gallery:is open before and after the event.
ARTISTS BIOS
Randy has acted in hundreds of plays regionally and in New York at Circle Repertory, La Mama E.T.C., Circle-in-the-Square, Circle Rep Lab, and The Drilling Company.  Film: Die Barkley, The Bench; Television: Boardwalk Empire, Royal Pains.
Randy's plays, THE COMPLAINT, THE KNIFE TRICK, YOU CAN'T TRUST THE MALE, UNBEATABLE HAROLD, and THE MEMORY COLLECTION (NEA Grant for Musical Theatre) have been commissioned and produced at Actors Theatre of Louisville, Ensemble Studio Theatre, Southern Appalachian Repertory Theatre, Bloomington Playwrights Project, Circle Rep Lab, as well as nationwide and internationally; they are published by Dramatic Publishing Company.  Randy holds an M.F.A. from The University of Iowa's Playwrights Workshop.  The feature film based on his play UNBEATABLE HAROLD premiered on Showtime in 2011, starring Dylan McDermott, Charles Durning and Henry Winkler.  His one-man show HARD TRAVELIN' WITH WOODY was originally produced at FringeNYC, 2011. 
WOODY GUTHRIE
​Woodrow Wilson "Woody" Guthrie (July 14, 1912 – October 3, 1967) is best known as an American singer-songwriter and folk musician, whose musical legacy includes hundreds of political, traditional and children's songs, ballads and improvised works. He frequently performed with the slogan This Machine Kills Fascists displayed on his guitar. His best-known song is "This Land Is Your Land". Many of his recorded songs are archived in the Library of Congress.[1] Such songwriters as Bob Dylan, Phil Ochs, Bruce Springsteen, Pete Seeger, Joe Strummer and Tom Paxton have acknowledged their debt to Guthrie as an influence.

Guthrie traveled with migrant workers from Oklahoma to California and learned traditional folk and blues songs. Many of his songs are about his experiences in the Dust Bowl era during the Great Depression, earning him the nickname the "Dust Bowl Troubadour".[2] Throughout his life Guthrie was associated with United States communist groups, though he was allegedly not a member of any.[3]

Guthrie was married three times and fathered eight children, including American folk musician Arlo Guthrie. He is the grandfather of musician Sarah Lee Guthrie.[4] Guthrie died from complications of Huntington's disease, a progressive genetic neurological disorder. During his later years, in spite of his illness, Guthrie served as a figurehead in the folk movement, providing inspiration to a generation of new folk musicians, including mentor relationships with Ramblin' Jack Elliott and Bob Dylan.

Woody Guthrie was inducted into the Oklahoma Music Hall of Fame in 1997.
(From Wikipedia, the free encyclopedia)
back to home/events
Info: 413-667-5543 / www.northhallhuntington.org