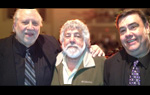 The Porch Trio
JAZZ
Sunday, JULY 8 – 4:00 p.m
$10 at door, students free. wheelchair/elev. accessible
THE PORCH TRIO: Smooth jazz standards, Latin rhythms, favorite ballads and Big Band swing sounds from Dave Sporny on trombone, Bob Ferrier on guitar and Don Baldini on bass.
The Porch Trio with David Sporny on trombone, Bob Ferrier on guitar and Don Baldini, on double bass have been performing as a trio for 5 years and are also members of the Amherst Jazz Orchestra. All three have extensive national and international performance careers. They are equally comfortable in both classical and jazz traditions. Individually they have performed in film, television, major orchestras and concert halls including at Lincoln Center, Tanglewood with Yo-Yo Ma, The Tonight Show, and working with such artists as Peter Erskine, Frank Sinatra, Maureen McGovern and Dave Brubeck to name a few. All three musicians are music educators in New England colleges including University of Massachusetts, Holyoke Community College and Keene State College.
North Hall artist gallery:The North Hall artist gallery featuring watercolors by Natalie Birrell and Ellen Moyer is open before and after the event and at intermission.
BIOS
DAVID SPORNY is a performer, educator, conductor, clinician and arranger. He is recently retired from the University of Massachusetts at Amherst where he was Professor of Trombone, conducted the Chapel Jazz Ensemble, Trombone Choir and performed with the Faculty Brass Quintet. Since coming to the University in 1982, he has been a frequent recitalist, clinician and freelance trombonist in New England. Being equally comfortable in both classical and jazz traditions, Most recently, as member of the Silk Road Ensemble, he performs with Yo Yo Ma. He has also performed with The Tonight Show Orchestra, Tommy and Jimmy Dorsey Orchestras, Les Elgart, Joe Williams, Frank Sinatra Jr., Nancy Wilson, Maureen McGovern, Aretha Franklin, Andy Williams, Dave Brubeck, Marian McPartland, Max Roach, Billy Taylor, Slide Hampton, J.J. Johnson, to name a few. Dave Sporny is the founder and musical director of the Amherst Jazz Orchestra. In 2004 the International Association for Jazz Education presented him with a Lifetime Achievement Award.
Mr. Sporny has appeared in concert halls throughout the world including Carnegie Hall, Lincoln Center, Kennedy Center, Tanglewood and Ravinia. Tours with various ensembles have taken him to South America, Europe, Scandinavia, Eastern Europe, Japan and Russia. He has performed with the Chicago Little Symphony, the Northwood Orchestra, Opera North, the Springfield and Hartford Orchestras, Ancora Chamber Ensemble, and the Corporate Brass. In 1997 he was chosen as principal trombone for the Festival Orchestra of Santa Domingo in the Dominican Republic.
David Sporny has recorded 12 albums and 17 CD's for RCA, Brownstone, Seabreeze, Jazz Masters and Original Cast Recordings. He is a voting member of the National Academy of Recording Arts and Sciences.
BOB FERRIER is an accomplished freelance guitarist and educator, and has performed with Jon Faddis, Randy Brecker, Eddie Bert, John Fedchock, Peter Erskine, John Abercrombie, among others. He holds B.M. degree in Performance from the Berklee College of Music, and a M.M. degree in Jazz Composition /Arranging from UMass-Amherst. Bob has studied with John LaPorta, William Leavitt, Herb Pomeroy, Bill Pierce, George Garzone, Yusef Lateef, among others. He has been teaching guitar for over thirty years and is Professor of Music and Head of the Jazz Studies Program at Holyoke Community College, where he has been teaching since 1984. He is also the Applied Guitar instructor at UMass at Amherst.
DON BALDINI, artist-in-residence at Keene State College, came to New England in 1992 after a professional career as a studio musician in Los Angeles. He appeared for 13 years with The Tonight Show Orchestra, and toured with Frank Sinatra, Johnny Mathis, Peggy Lee, and the Harry James and Toshiko Akyoshi – Lew Tabakin Bands. With the Cincinnati Symphony, Baldini recorded the music of Nelson Riddle for a CD released on the Telarc label. He also performed music in numerous films, recordings, and television shows. He currently appears with the Vermont Symphony, Opera North, as well as several local chamber music and jazz groups. Baldini holds a degree in music from Indiana University and did graduate studies at California State University, Northridge. He directs the KSC Chamber Orchestra, the KSC Jazz Ensemble, and teaches jazz history and the double bass.
All welcome.
contact: 413- 667- 5543 / www.northhallhuntington.org
back to home/events