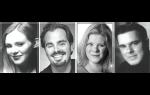 LIVE OPERA SHOWCASE
Saturday MAY 26 -7:00 p.m. Sunday MAY 27 – 2:00 p.m
$15 at door, students free. wheelchair/elev. accessible
New York ensemble features sopranos Tammy Tyburczy, Tanya Crist, tenor Antonio Abate, baritone Christopher DeVage with accompanist Jerome Tan performing arias and ensembles from Mendelssohn's Elijah, with selections from Puccini's famous operas. Meet-the-artists reception
North Hall artist gallery: featuring the metal sculpture by Susan and Gene Flores of Cummington and abstract paintings by Jan Roby of Worthington is open before and after the event and during meet the artists/ performers reception during intermission.
BIOS:
Soprano Tammy Tyburczy, a graduate of Juilliard and the Curtis Institute of Music, has sung the role of Musetta in Puccini's La Boheme on tour with the San Francisco Opera and Susanna at the Aspen Music Festival. She also sang Pamina in Mozart's Magic Flute with Pittsburgh Opera. For four years she sang the soprano solo in The Lord of the Rings Symphony with the Utah, Baltimore, New Jersey, Pittsburgh, and Leipzig Gewandhaus Symphony orchestras. In 2006 she covered the international artist Ruth Ann Swenson as Marguerite in Faust. Ms. Tyburczy recently recorded the soprano solo in The Evidence of Things Not Seen with Albany Records. She recently recorded a demo for the new Hyundai Sonata commercial.
Soprano Tanya Crist,a graduate of the Juilliard and Ohio University, made her debut in Debussy's Pelléas and Mélisande with the Opera Company of Boston in Jakaterinaburg, Russia under the baton of Sarah Caldwell. She has performed as soprano in Haydn's Creation, Handel's Messiah, and Bach's B Minor Mass. Her opera Great Expectations, adapted from the Dickens' novel, was premiered in 2011 by the Orion Opera Company.
Tenor Antonio Abate, a graduate of Juilliard, has performed major roles including the title role in Faust, the title role in Offenbach's Orpheus in the Underworld, Sam in Street Scene, Ottavio in Don Giovanni, Basilio and Curzio in The Marriage of Figaro, Tamino and Monastatos in The Magic Flute, and Andrew Johnson in The Mother of Us All. Mr. Abate completed a year at the A.J. Fletcher Opera Institute in North Carolina as one of only six fellows. He has attended the prestigious Marlboro Music Festival, the Ravinia Steans Institute, Bowdoin Music Festival, Opera North, Chautauqua Music School, BASOTI Music Festival in San Francisco, and Aspen Music Festival.
Baritone Christopher DeVage, a graduate of Juilliard and the Shenandoah Conservatory, holds a Master of Music degree in opera performance from the University of Maryland College Park, made his New York Philharmonic début in Bernstein's West Side Story Suites at Carnegie Hall. A winner in the Oratorio Society of New York solo competition and the Metropolitan Opera National Council auditions, he has appeared as soloist at Carnegie Hall, Avery Fisher Hall, and Alice Tully Hall. Mr. DeVage recently created the role, to critical acclaim, of Edgardo Mortara in the world premiere of Francesco Cilluffo's Il Caso Mortara with Dicapo Opera Theatre.
Pianist Jerome Tan, a recipient of the Marilyn Horne Foundation Award for Vocal Collaboration from the Music Academy of the West and accompanist for a birthday gala in honor of Miss Horne at Carnegie Hall. He has also served as a staff pianist at the Steans Institute of the Ravinia Festival. His most recent appearance was during the Marilyn Horne Foundation's Mediterranean Cruise, a nine-day tour around the Mediterranean filled with musical performances throughout the journey.
All welcome.
contact: 413- 667- 5543 / www.northhallhuntington.org